Fall of the Giants
Motobecane shares a similar history to Britain's Raleigh brand, and sadly both companies no longer produce bikes in their respective countries. Both Motobecane and Raleigh became behemoths in the cycle industry throughout the 20th century, mass producing a great variety of two wheeled machines and exporting them en masse across the globe. Both also began as humble, family-owned workshops, and similarly dedicated their factories for the war effort after 1939. Eventually, both companies filed for bankruptcy and were sold to foreign owners in the 1980's, their brand names now being used by the huge Taiwanese corporation, Kinesis.
1924 – 1981
It was 1981 when the last Motobecane branded bike rolled out of the factory in Saint Quentin. Like Raleigh in 1987, Motobecane was to be bought out by an overseas corporation, which shut down the French factories and moved all production to Taiwan. In 1984 they decided to rename the brand MBK, which retained at least some remnant of the French name and at the same time provided some provenance to the new company's identity. French-built models like the C5 and the Team Champion were now confined to history; gone forever were the handmade frames built for Tour De France races.
1984
MBK bikes are an example of what happens when a company is bought out and it's new owner is solely intent on making money. Have you ever heard anyone speaking admiringly about MBK? I very much doubt it. The bikes that they produced from 1984 were epitome of functionality and cost-effectiveness; cheap-looking frames, uncompromisingly basic parts and a range of bikes that would leave you as inspired as a damp lettuce. No longer is there a serial number stamped onto the frame; instead, on the downtube, is a sticker with a "number sequence".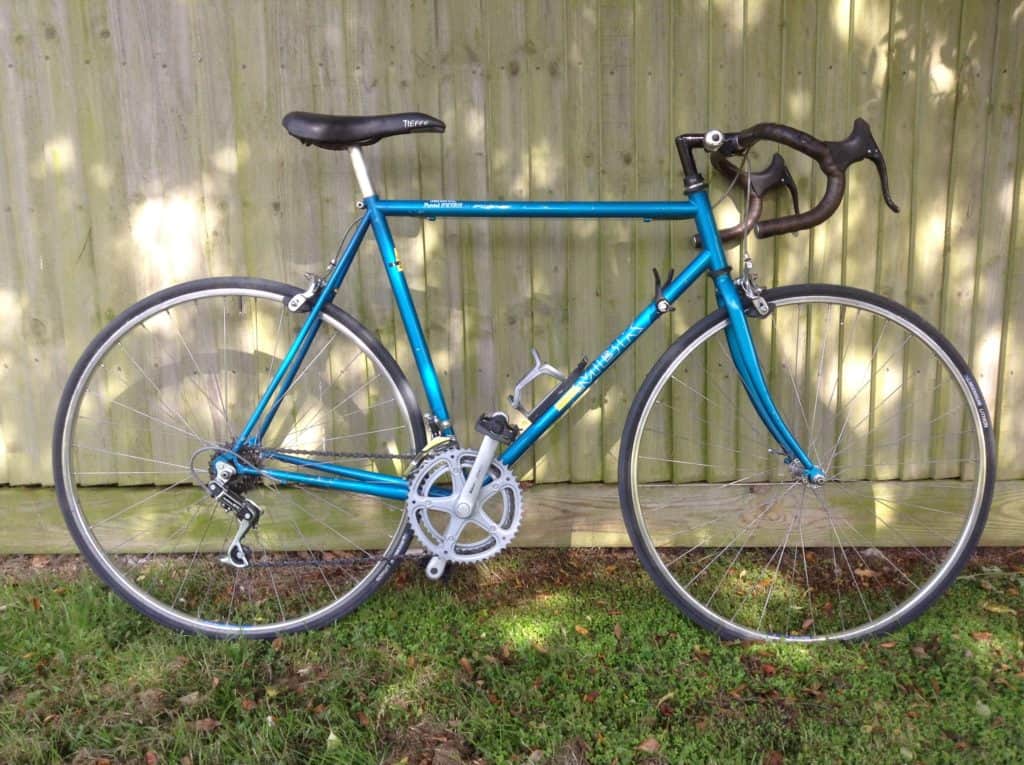 The Hideous Crankset
Whoever would have wanted a crankset such as this on their bike? It's a piece of garbage. It doesn't even have any chainrings bolts, because it's a one piece hunk of aluminium. It's so ugly, so, so, ugly. Perhaps it's the ugliest crank ever made, in the history of world. It is also especially useless: it can't be taken apart and cleaned, so I hate it more than any other component I've ever come across.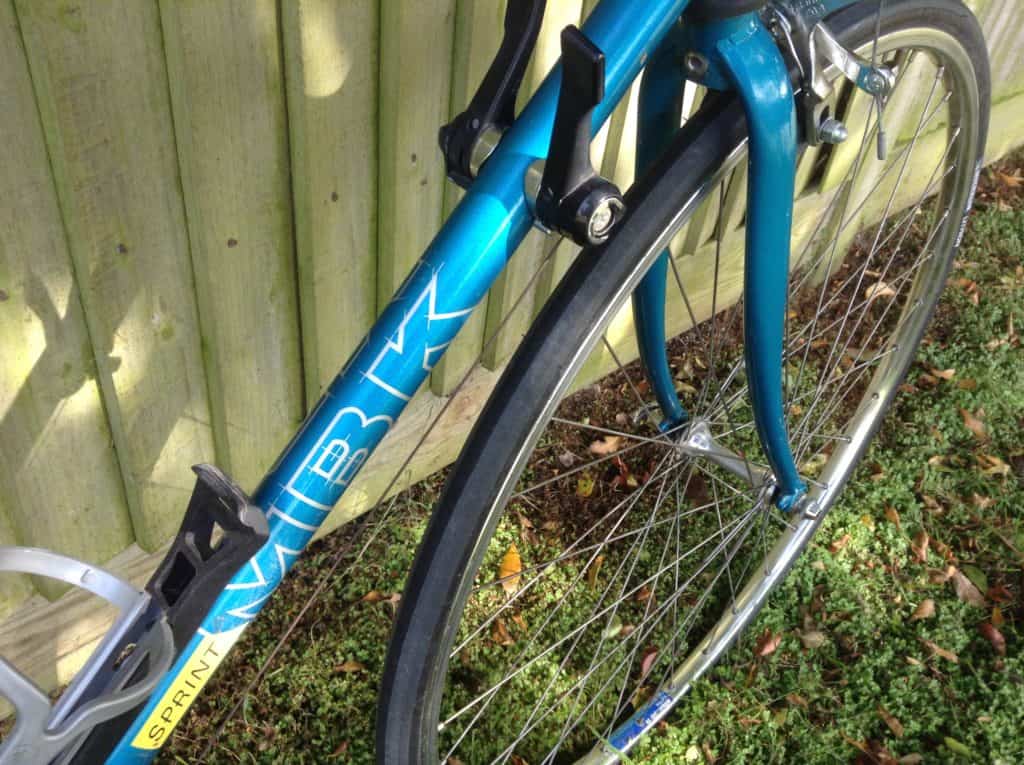 The Era of the Unicrown
As for the frame, well, it's quite a nice colour, and I really believe that it is better made than most modern aluminium frames. There are no ugly tig welds which are ubiquitous on most modern aluminium and steel tubes. The unicrown fork is not a misfit on this frame which has no lugs, but I still much prefer the traditional dual crowned fork on a steel bike. It reminds me of the early mountain bike phase of the mid to late 1980's, on which were fitted these less ornamented and rudimentary forks.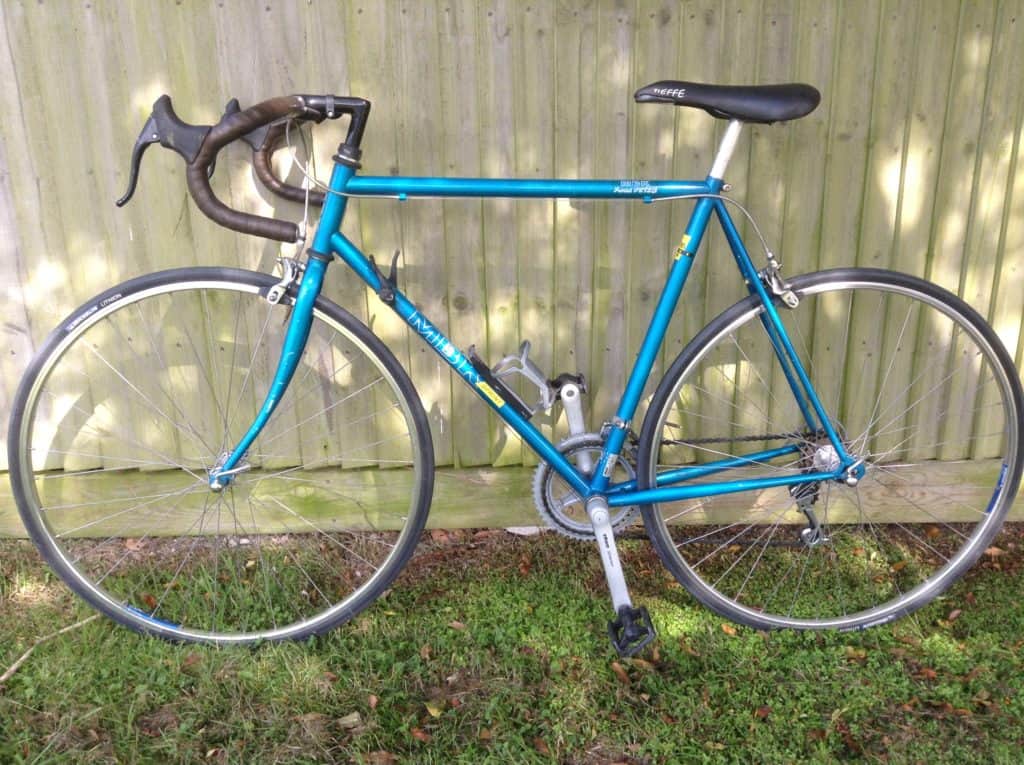 Mix 'n Match
I wonder how much of this bike is original and how many components have been swapped out. The rear derailleur, for example, has a long cage and is designed for a triple crankset, yet this bike was never an 18 speed. The saddle is Italian, the bars and stem are ITM, the rims are Ambrosio and the brake levers are French, being a pair of Saccon. It's a bit of a mixed bag, but maybe that's how MBK rolled back then. You get the feeling there was no interest in building the bike with a groupset, or with a homogenous set of parts. But then again, what could be expected of a bike firm like MBK in the early 1990's?
Conclusion
This is an early 1990's bike, like this one, but it doesn't seem it. There are other examples of MBK Super sprints with better components, indexed shifting, Exage 300x derailleurs. You may even say that this bike has Columbus Gara tubes, and that it was a decent road bike in its day. Maybe. But this bike has a basic 6 speed wheelset, which could have been installed on a bike in the early 1980's; it also has that crankset and a pair of low quality brake calipers. It's decals are basic stickers, placed over the paint, which in many ways is a detail which sums up the whole. MBK never made a bike like the Motobecane C5.