Just Around the Corner
I saw this cool 1980's Vintage Motobecane standing outside a neighbour's house, with a sign "á vendre" ( for sale ) attached to it. Seeing it in the distance, I guessed that it wasn't a high end bike. The reason? Its red saddle. These plastic types of saddles were never found on top models of this era, I know Peugeot had some cheaper models in the 1980's with the same distinctive red saddle, matched with red handlebar tape. Here, I'll prove it below:
This Vintage Motobecane Model
Voila. The bike above is Peugeot P8, which features the same type of saddle and build as the Motobecane I have just bought. The model of the Motobecane, is I believe, the BC112, but I'm not sure of the year yet. The owner, who bought it from new, told me it is 35 years old, which would mean it is a 1985 model. However, according to the Motobecane catalogue for France from 1985, the BC112 was only available in red or blue in this particular year. Here is the link for the catalogue page.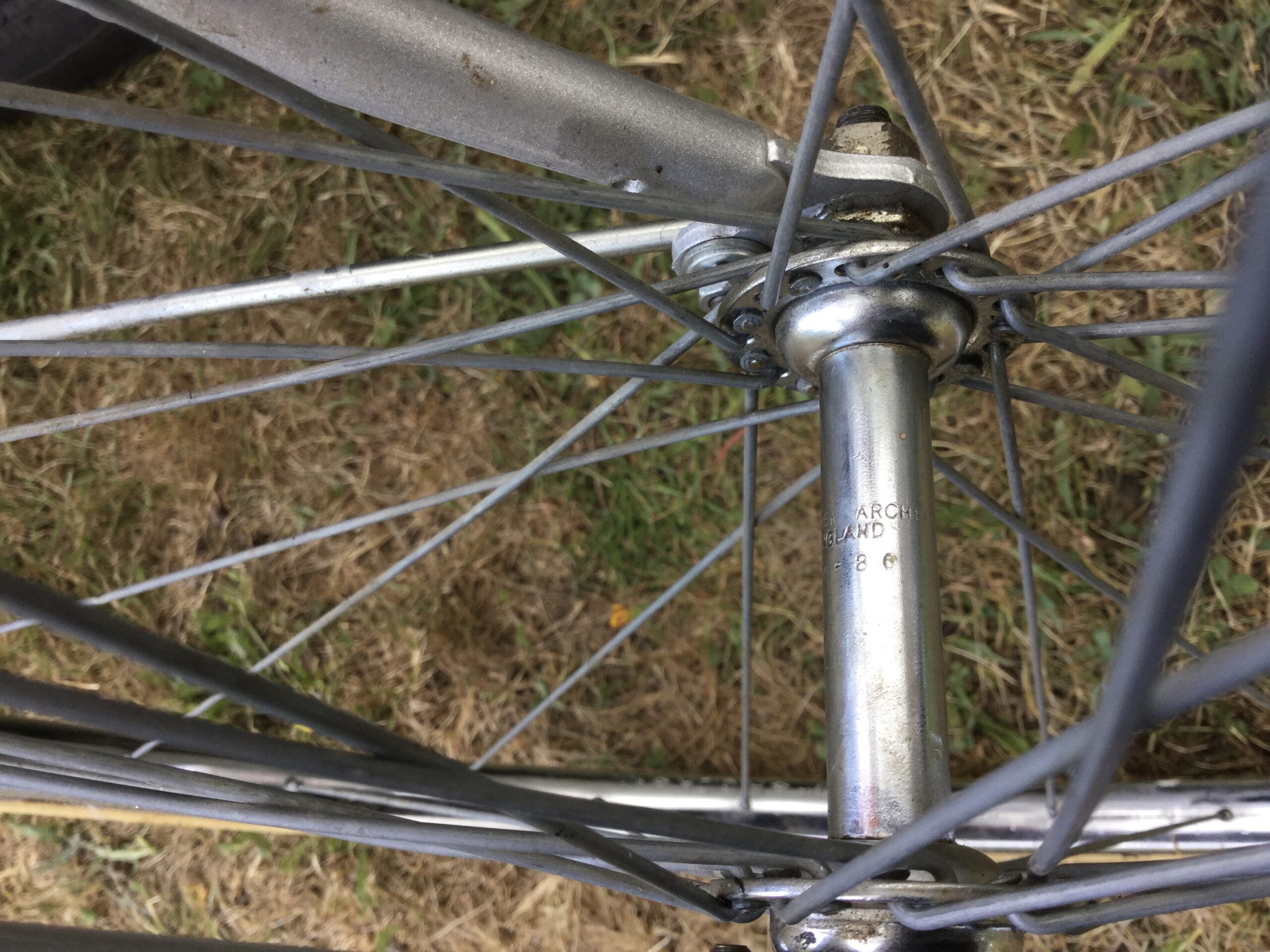 Original Owners Can Get it Wrong
I started this page with 1985 as the date of this bike, as informed by the original owner, but it's surprising just how often owners provide wrong information about their bikes. In this case, check the photo above: the Sturmey Archer hub is stamped 1986, which means that the bike was not built in 1985 at all. The best way to date a bike, in my view, is by component stamps like this one. Serial numbers are often meaningless when it comes to French bikes, so I've rewritten the title: a 1986 Motobecane BC112.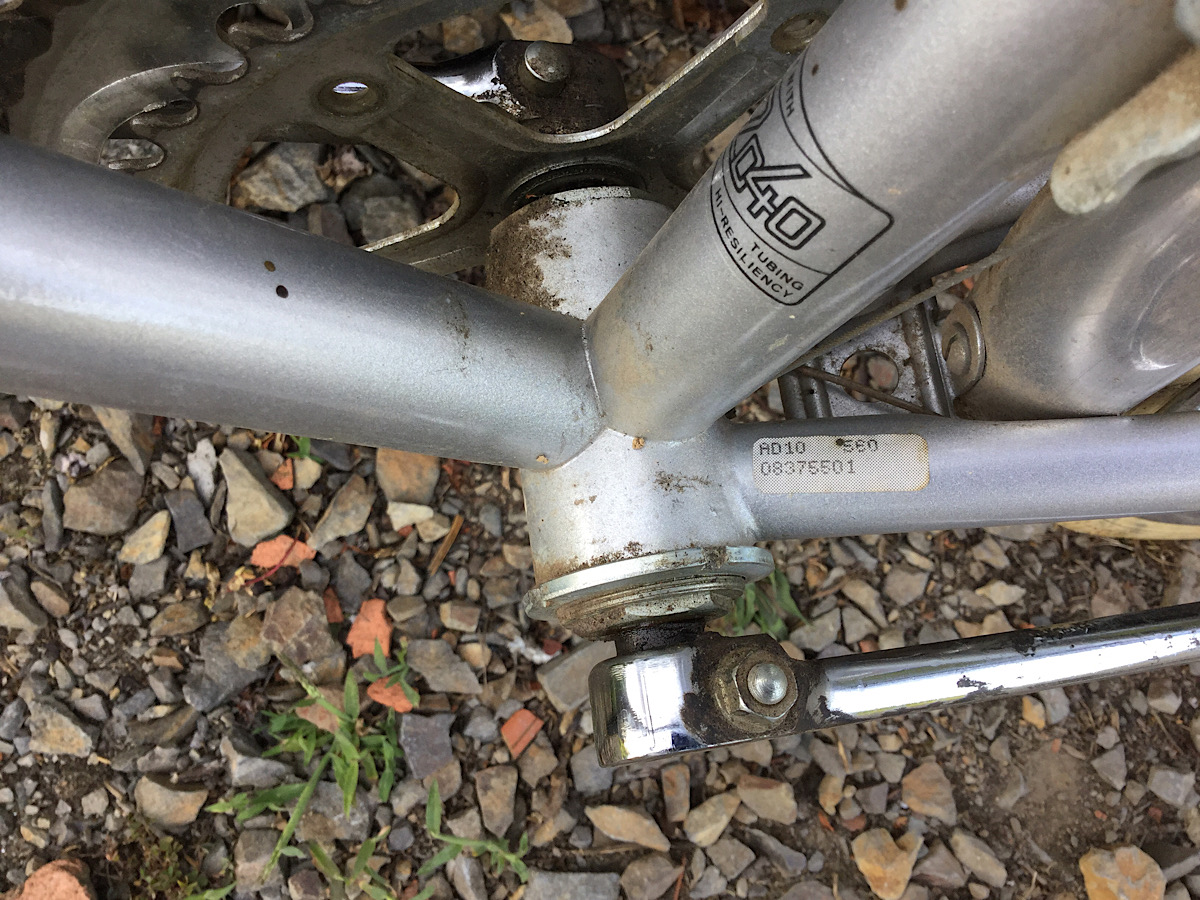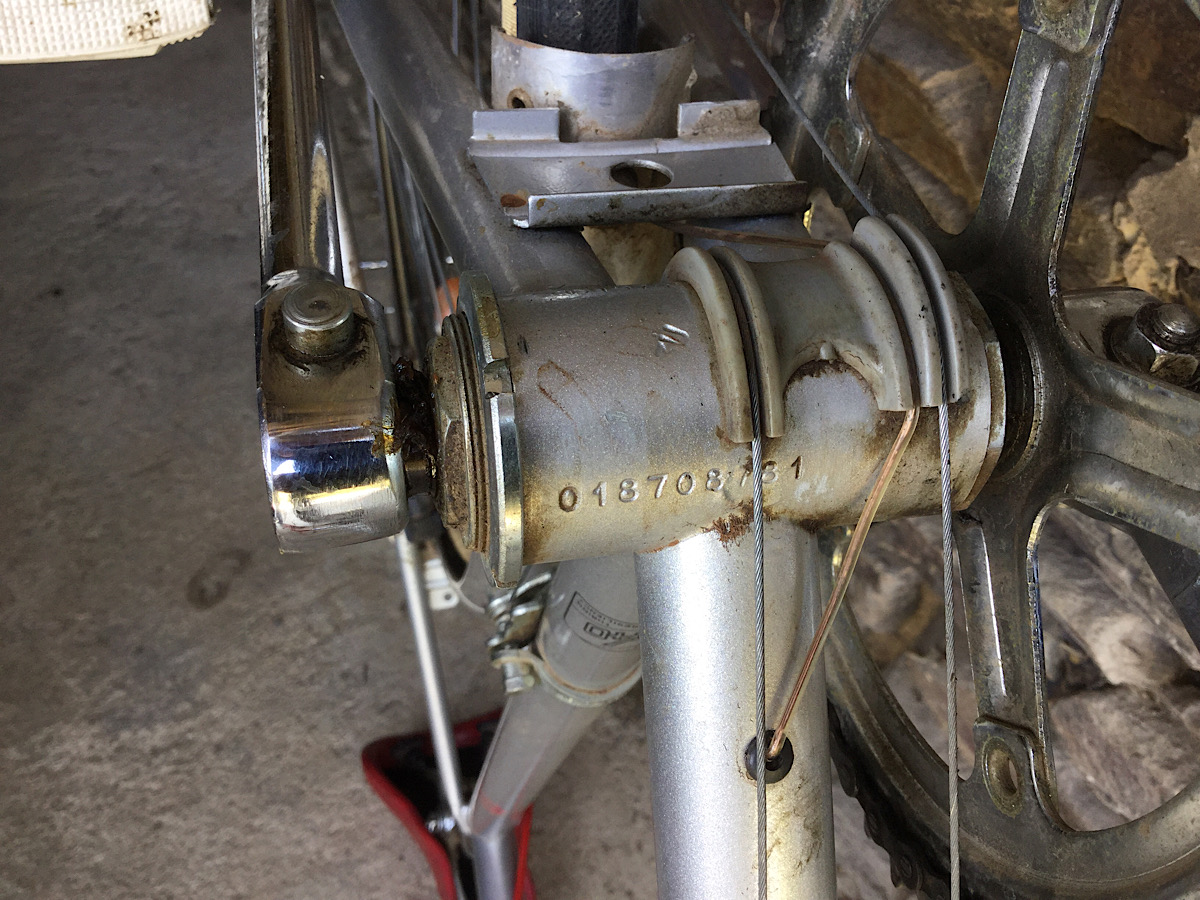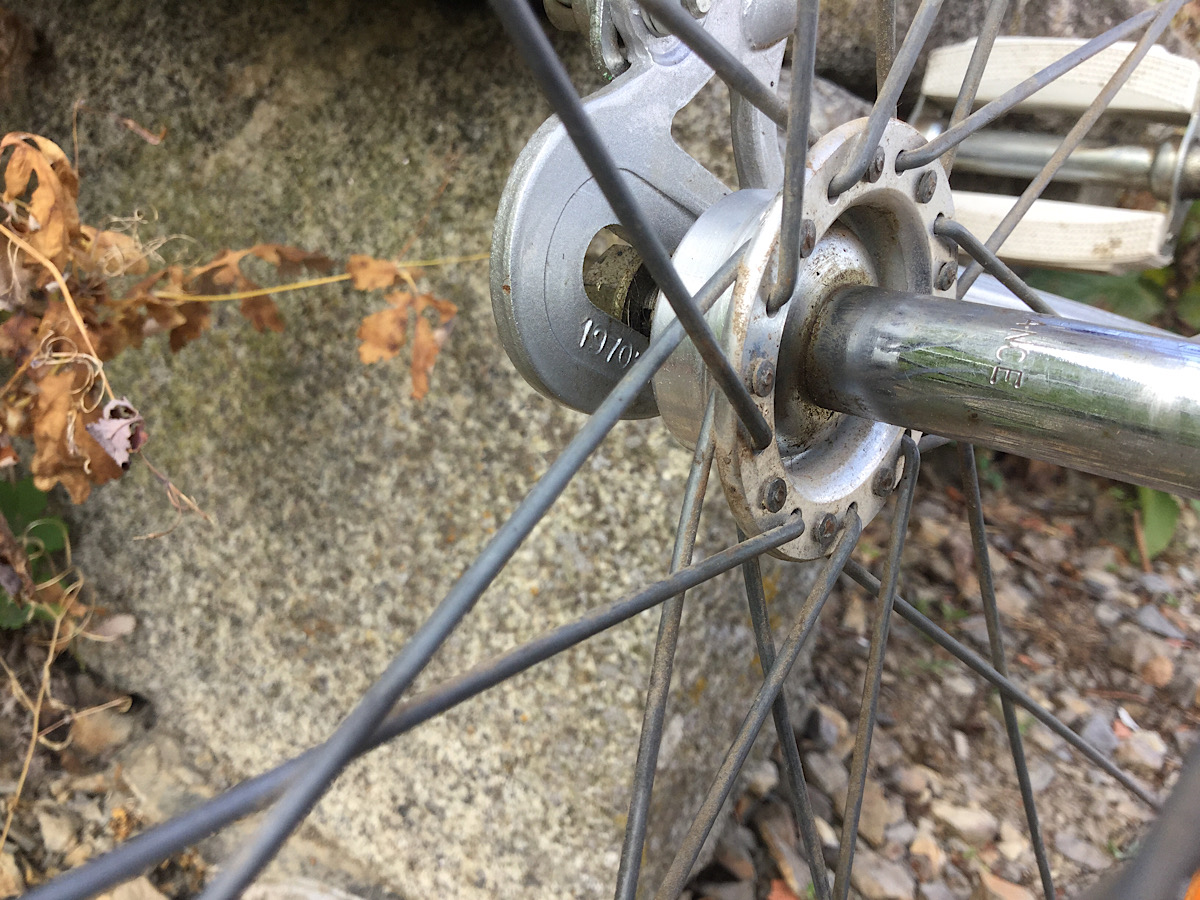 Three Serial Numbers?
There are three numbers on this bike that I don't know how to decipher. One is on the chain stay, and when I saw this I thought it could state what model the bike is, similar to model identification of some Peugeots in the 1980's. However, one is an 8 digit number, and above that reads the four digit  "AD10" ( what's all this BC and AD stuff? Is AD10 the model? I'm not convinced Motobecane had a factory at the time of Jesus ). The serial number on the bottom bracket makes little sense to me, unless the third digit marks the year, so "7" would be 1987. The last is stamped on the dropout, beginning with 1970..Never mind. I'm quite sure the bike is an '86.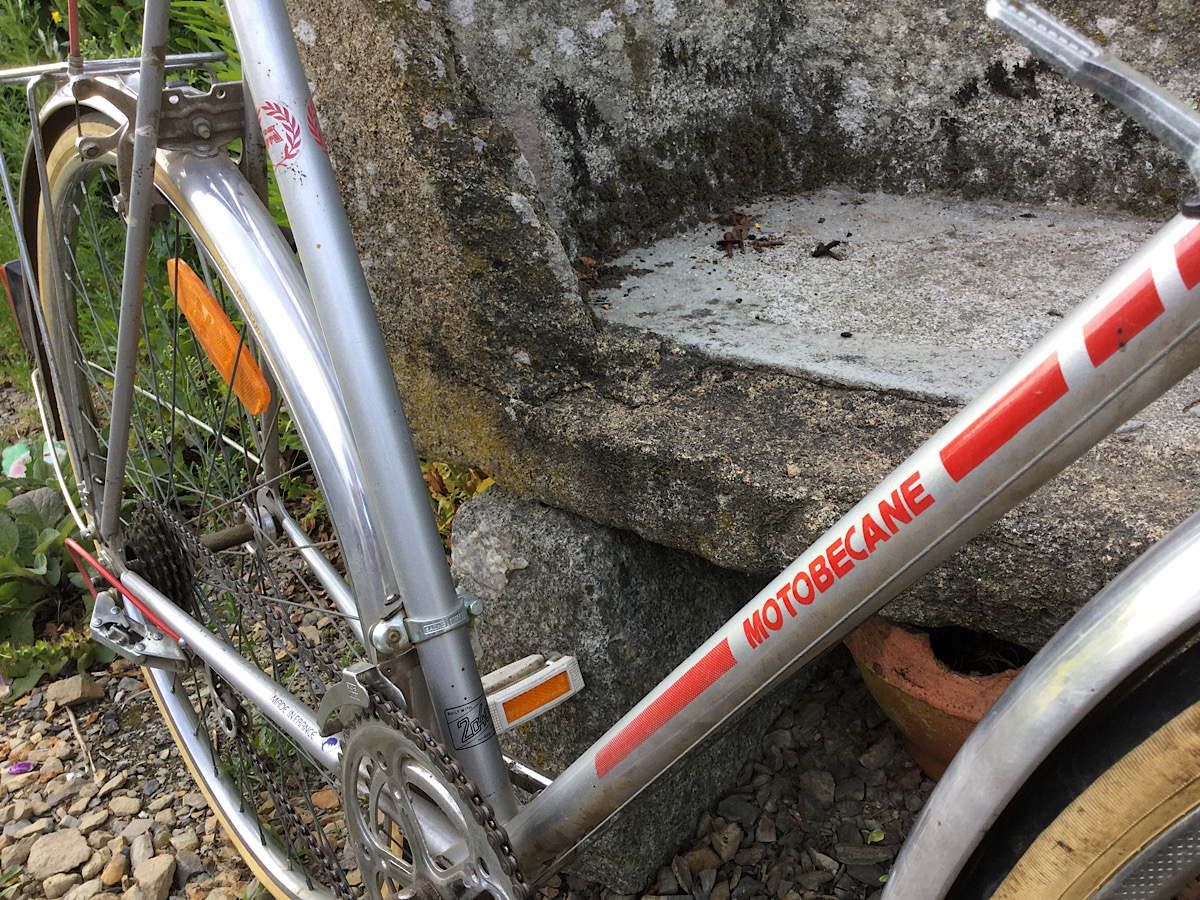 General Condition
I would give the condition 8.5/10, considering the age of this bike. The paintwork is in really good condition, with absolutely no rust anywhere. Even that big 'ol cottered steel crank is rust free, and that's unusual as they normally become rust buckets. If its condition hadn't been so good I wouldn't have bought this bike, because to be honest, I don't usually buy bikes with basic steel tubing and cottered cranks. When I see these heavy cranks I often have an impulse to take a hammer and knock them off. It's not such a big deal with this bike, as its big redeeming factor is that it's been cared for in such a way that there's barely a scratch on the tubes.
Huret Issues
I'm not a fan of the Huret Eco, including this later version of it branded as Sachs Huret. First of all, I think the rear derailleur is a rather ugly component bereft of any style or quirky charm. Simplex derailleurs look much better, in my opinion. These Eco mechanisms also often lose their black plastic bolt covers ( luckily this one is still intact ), making them look even more functional and charmless. Mechanically, they are prone to losing their tension and will often need rebuilding or at least a good service. In this case, the spring tension was just about adequate, after lots of pushing and pulling and good quality lubrication, to move the chain across the freewheel again.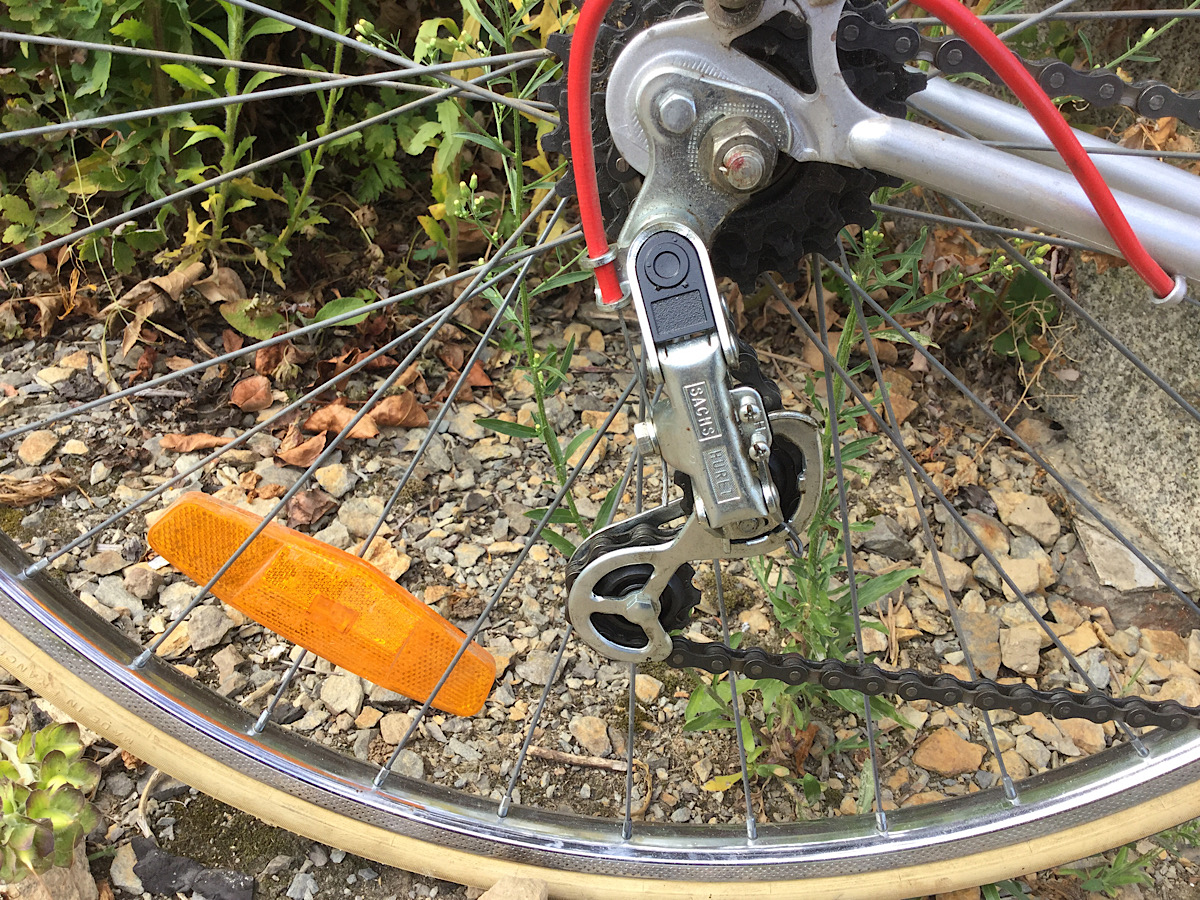 The Frame
It's 1986, so gone are the traditional lugs that earlier Motobecane models featured, replaced by a different method of brazing the tubes together. This lugless frame, which is similar to the Motobecane Eclair which also features "inexternal" brazing, gives it the clean lines and attractive simplicity that defines this bike, enhanced by the internally routed brake cabling in the top tube. The sloping fork crowns and lugless tubing creates the impression of a more aerodynamic, streamlined machine, a product of the 1980's.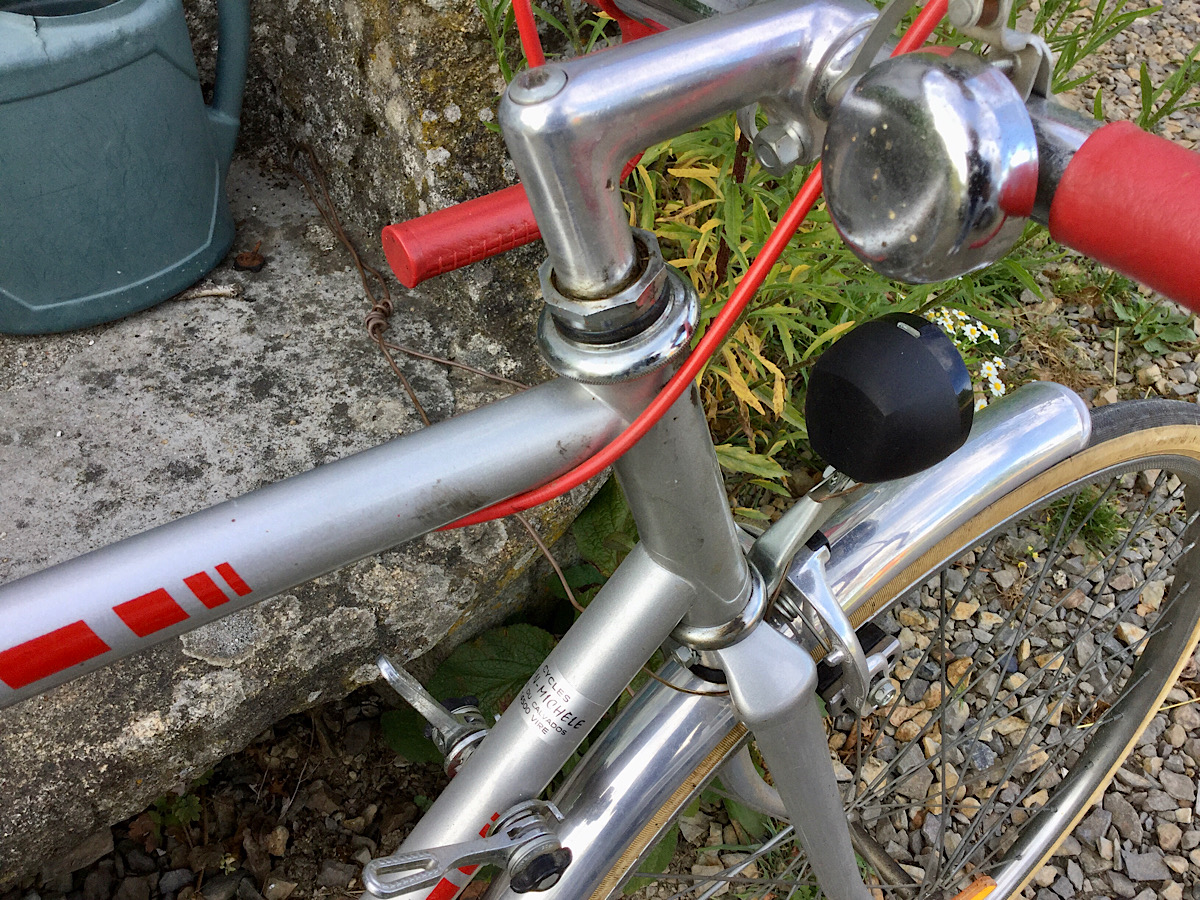 Nice Details
Elements of this '80's bike are a throwback to older vintage models, and this bike seems to straddle the two eras, sort of unsure where it belongs. The dynamo was original to the bike, with an internally routed wire and specially drilled hole on the bottom bracket to keep the lines of the bike tidy. The aluminium mudguards and rack are a nice feature, as is the bell, rubber grip pedals and Hutchinson sewn handlebar grip. Yet, the head badge is a dismal affair and I think a few nicer parts, like engraved handlebars and a higher quality seat post, would have been ideal. And what's with mismatched hubs? New Star (French ) on the rear, Sturmey Archer ( British ) on the front.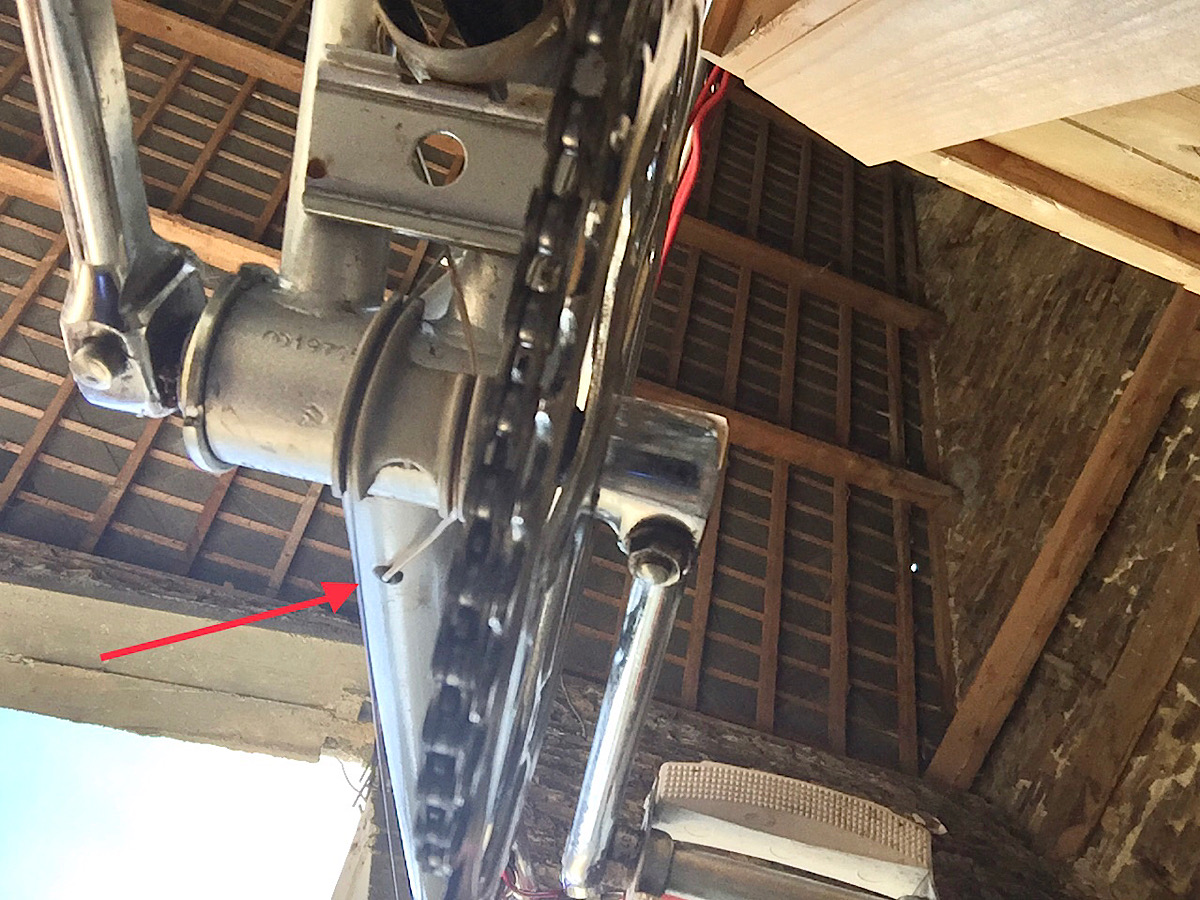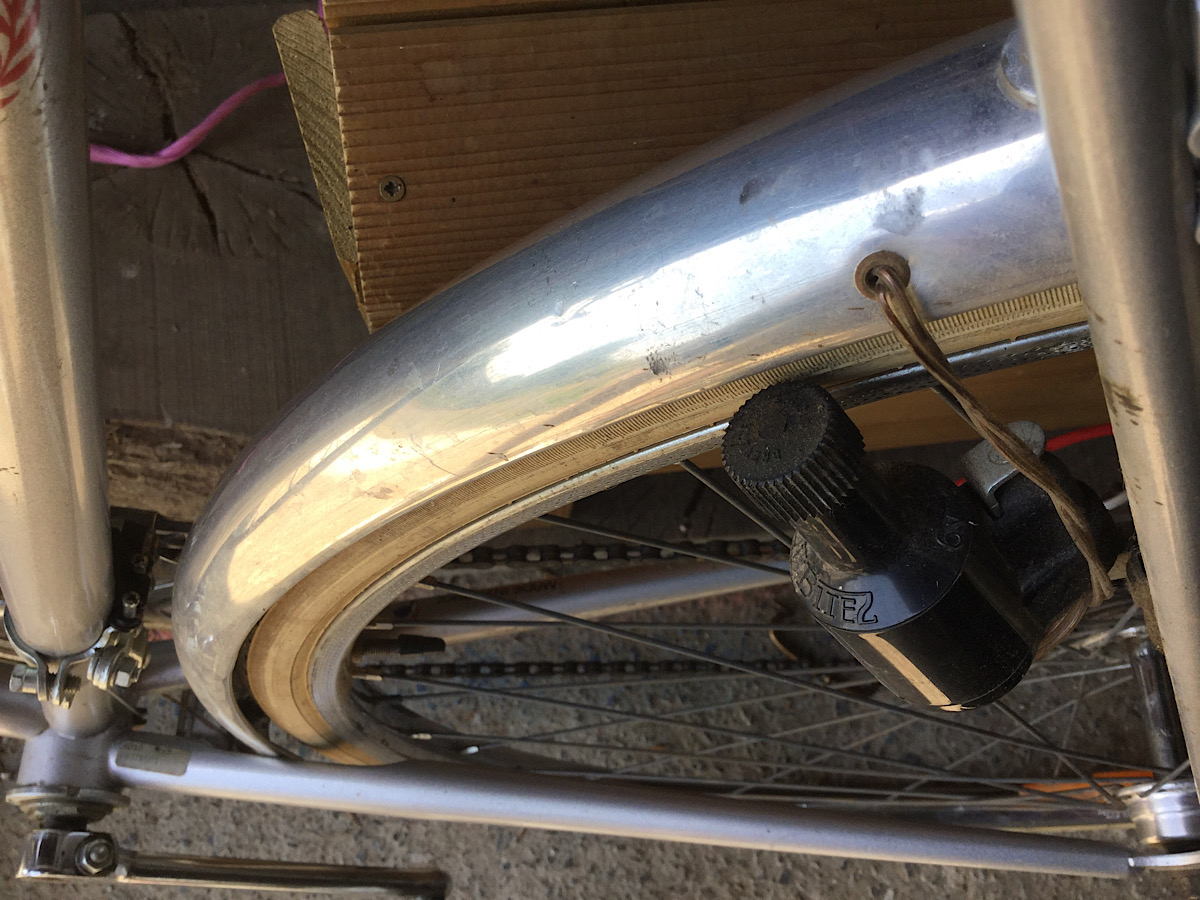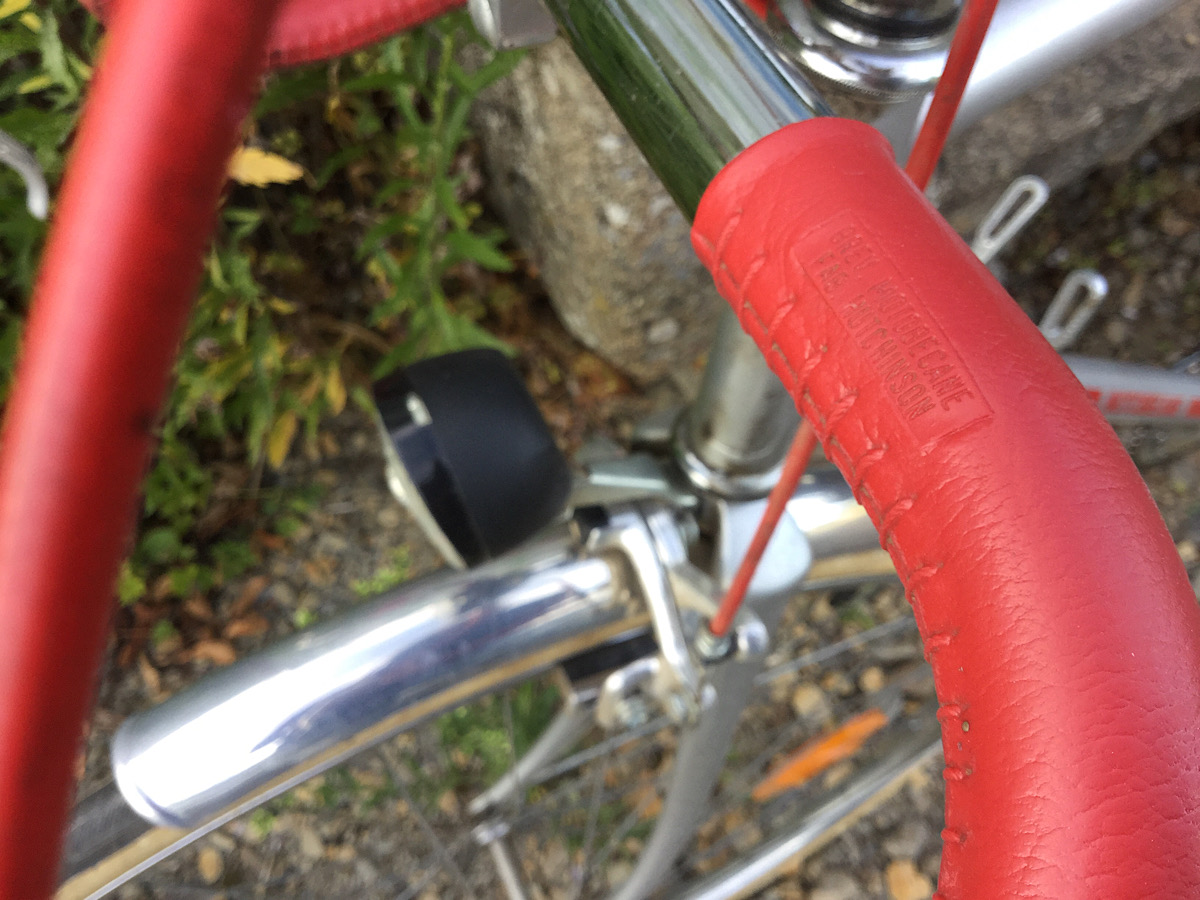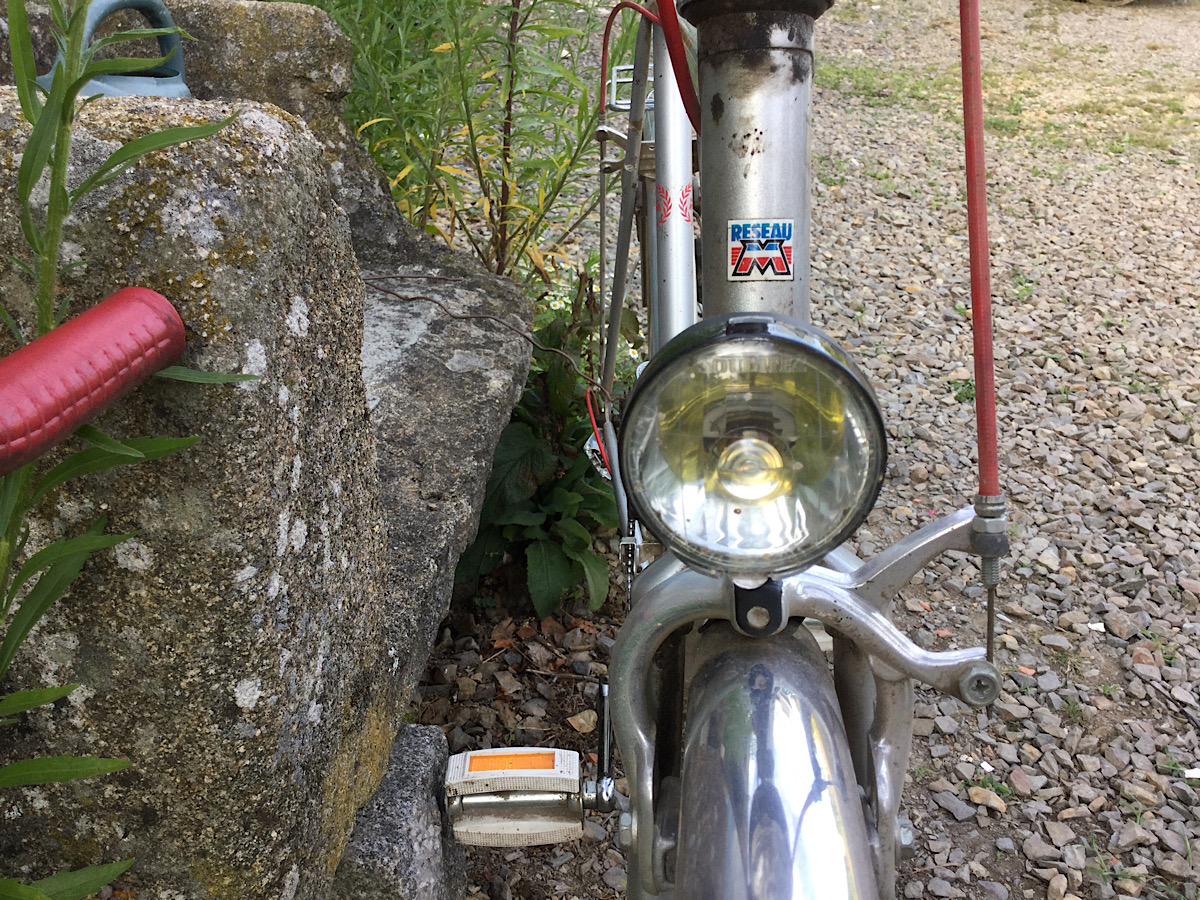 On the Road
I wasn't expecting any surprises from this Motobecane, it weighs around 29lbs and has no pretentions to be a zippy road bike. I went for a ride with a guy who brought along his new Specialized Crux, along the river Vire in Normandy. As expected, the Motobecane has a solid feel on the road, it's comfortable in the saddle and the larger tyres and sturdy steel frame nicely absorb any surface irregularities. As I didn't change out any parts, including the chain ( 35 years old ), there was sometimes a 3 or 4 second lag for the gears to shift, due to the lack of dexterity in the chain and worn cogs. Yet, I was taken aback how this old bike was able to cope with keeping up with the Specialized bike. Yes, it felt heavy and acceleration was slow, but it didn't let me down; it even surprised my companion, who loves all the new tech and latest computer designed road bikes. Vintage bikes can run on decades old parts and still surprise you.