Going Alpine
I'm not one for climbing large mountains in some pursuit of my own cycling fantasy. I admire those who do make it up Alpe D'Huez or Ventoux, but I would much follow the meanderings of a lazy river, or in this case, follow a bike trail around a lake. I took my custom built vintage French bike out for a 30km ride along Lake Annecy, finishing at the town of the same name in this spectacular mountain region of France.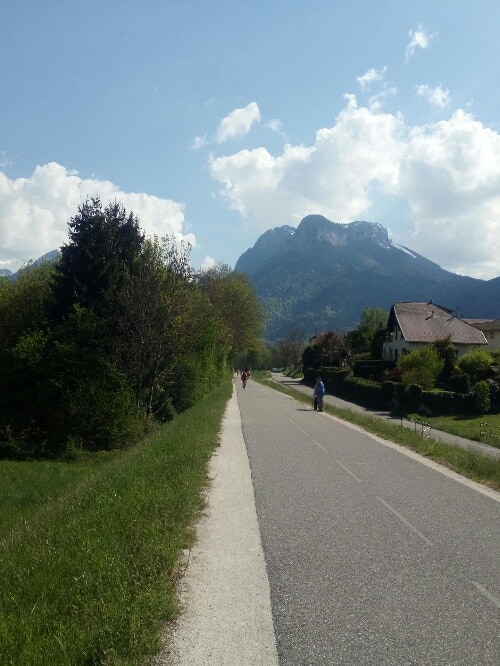 The Trail for my Vintage French bike
This is part of France's Voie Vert bike trail system, and like so many of these great trails, it is built on an old railway line. The trail has yet to be completed and doesn't complete a loop of the lake, but runs along the western side of the water from Annecy to Albertville. This means you have about 36km of bike dedicated, car-free trail to enjoy, and as you'd expect, it is a popular route for all types of cyclists. The official guide is here: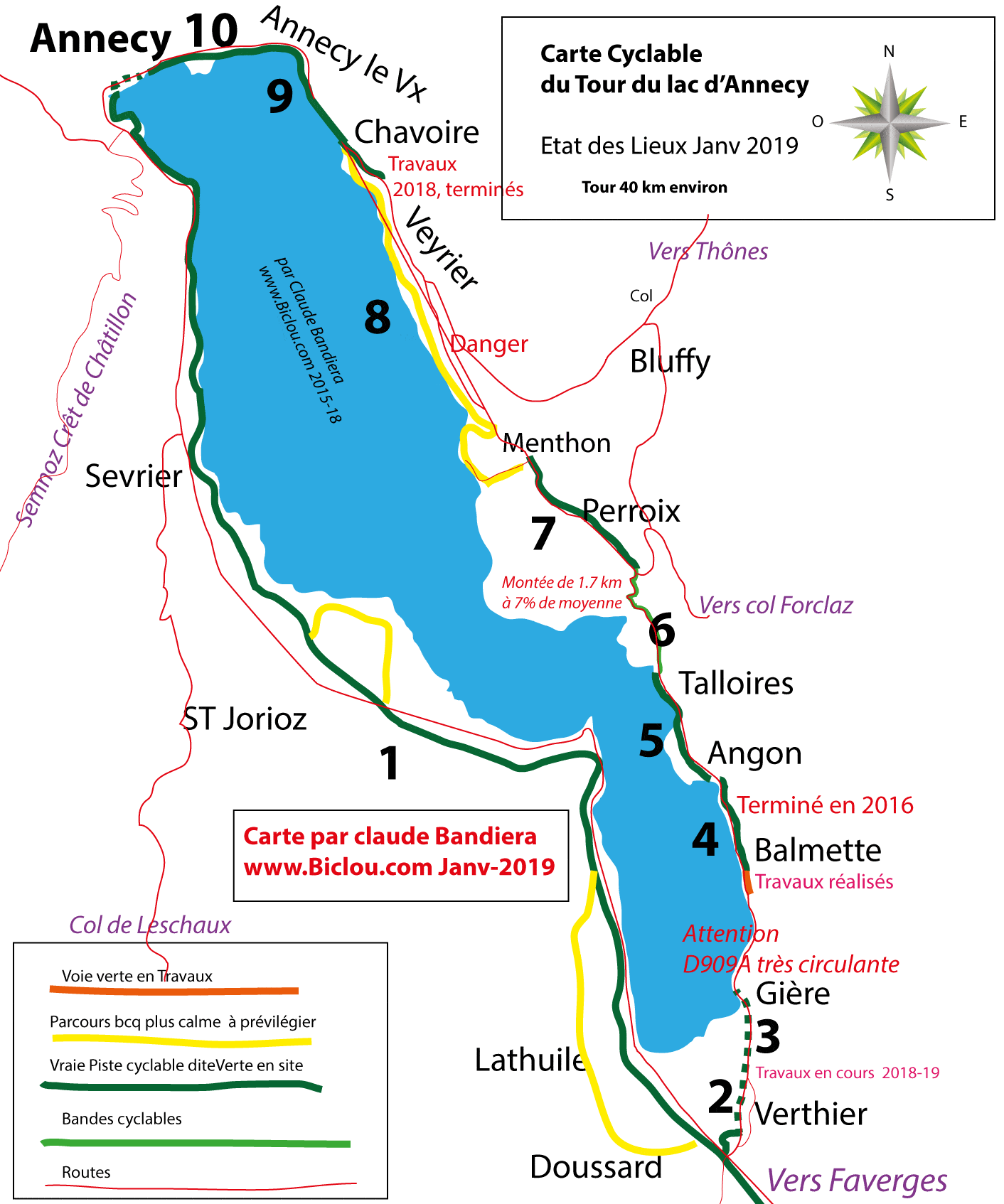 May 1st Holiday Traffic
Like the UK, the first day of May is a holiday in France and this was the day I rode the trail. I was amazed at the amount and variety of the people riding bikes on this bank holiday. As I wheeled my bike onto the trail entrance, a plethora of cyclists, from serious club riders to groups of families with small children, filled the road in both directions. I decided to ride to Annecy which is about 18 kilometres north and return to where I entered the trail, a commune called Doussard, which sits roughly in the middle of the Voie Vert.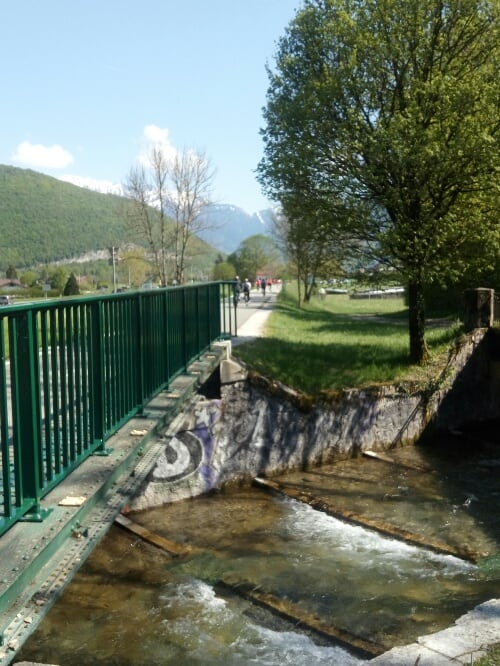 Lakes, Mountains and Big Sky
It's a beautiful trail. The scenery is breathtaking and there are many times you feel compelled to get off the bike and take it all in. The lake shimmered in the sunshine and its clear blue water was wonderful to behold. The trail doesn't always hug the lake, unlike the main road which runs close to it along its whole length. For short sections the lake's waters are hidden from view, but you keep riding knowing that the best vistas are up ahead. Soon enough the trail bends and the great views appear again.
Vintage and Modern
I was riding my vintage Treboutte bike, a super purple frameset which I built up over the winter with modern parts. Undoubtedly, many vintage afficianodos would not consider my bike vintage, with its Ultegra 6500 9 speed groupset. But funnily enough, my bike was one of the few vintage bikes I saw on the trail that day. I'd say 90% of cyclists on the trail were riding modern aluminium or carbon framed road bikes, and there were surprisingly few pre-1987 bikes to be see. This is not Portland or Seattle!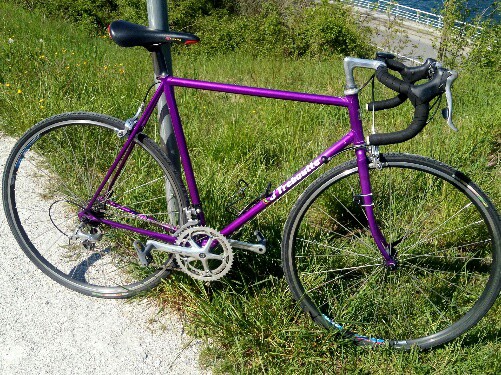 Rest Stops and Ice Cream
Every few hundred metres on the trail there is a junction with a minor road and one has to negotiate the gates that are designed to slow the cyclists down. These points are often where one finds old stations which sit as monuments to a past way of life, now overtaken by the glut of cars which now dominate the region. Some of the old stations have been reimagined as cafes and picnic areas, a place to get an ice cream before continuing on the trail.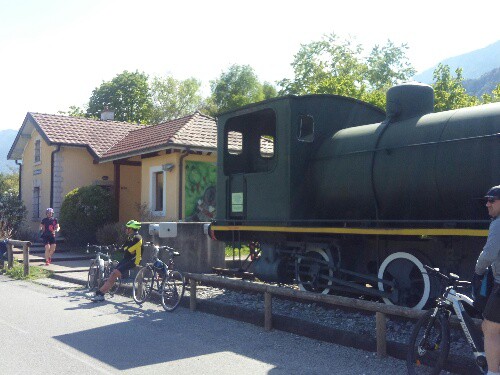 Verdict
This is a great ride for so many reasons, especially for the scenery and sense of being immersed in lovely Alpine views while riding a bike. The quality of the trail is smooth and well maintained, with none of those pesky tree roots that often spoil bike trails. Some of the trail has been recently resurfaced, and I get the impression that this is route that is properly cared for and developed. It's not completely flat as I'd imagined, but the small inclines pose no difficulty to the majority of riders. There was a headwind which comes off the lake, blowing from the north, which did make riding to south much easier on the return journey. I'd recommend this trail to anyone who wants a spectacular and inspiring ride in the Alps.