Vintage Trek and Specialized Bikes
Imagine walking into a bike shop in an American town in the early 1970's. No vintage Trek and Specialized bikes would have existed. For the average Joe, there wouldn't have been much choice if he wanted a good road bike made in the USA. The US bike market at that time was dominated by that behemoth Schwinn, and the Europeans who were big players, the brands whose riders won Grand Tours and had decades of racing heritage. Who wouldn't have been more attracted by a Peugeot in a shop window, donned in its racing colours, while sitting on a mundane Schwinn bike like the World Tour?
Rocket Men
When I was growing up, American stuff was cool. In fact, lets just be straight here: America was cool. We all watched American films and TV shows, listened to American music and dreamed of living in California or New York. America was the influence of so much of our materialism and culture here in Britain; I remember how impressed we were as kids when we saw our neighbour's Trans Am, it was like it was from another world, a world of palm trees and millionaires. We believed it was faster than a Ferrari, because it was American, and the Americans put men on the moon, they built rockets. They could do anything. Jet fighters, space shuttles, monster trucks, Harley Davidsons, but yet..they didn't build bikes. We never saw an American bike in the Tour De France. "Americans don't do bikes", we'd all have said back in the 1980's. But we were wrong.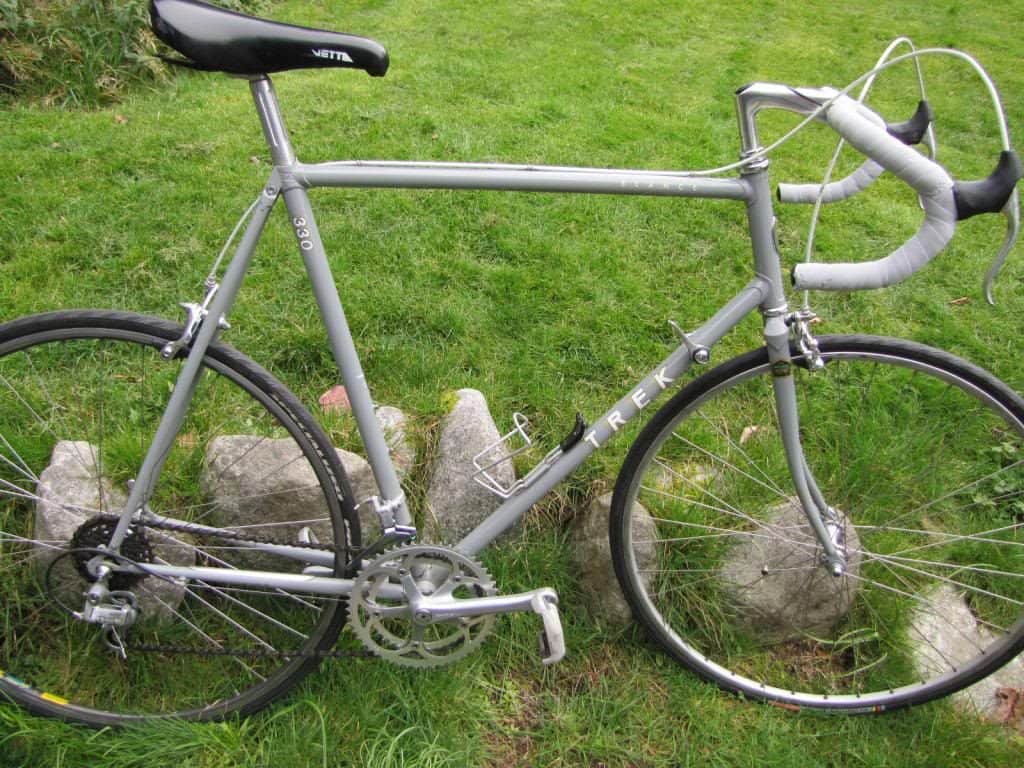 The Trek Phenomenon
1976. The bike boom of America was waning, but it was the year that Trek was founded, by Burke and Hogg. These two may may sound like a couple of body snatchers, but they were actually building really good quality bikes from the get-go. They were after the mid range market mostly, but also wanted a slice of the Colnago and De Rosa pie. That's what I like about early Treks, there's none of that ugly, low end stuff associated with the 1970's, and some are really exceptional. The trouble is, really early Treks are hard to find; they weren't exported and so are very rare in Europe. When I was living in the U.S., the earliest model I owned was 1978 400. Indeed, every Trek I've owned has been well built, easy to repair, well crafted with the feel of real quality and craftsmanship. Take a look at the grey 330 above. It had stamped seat lugs, simple but elegant lug work, its clean lines emphasised with a lovely finish of high quality paint.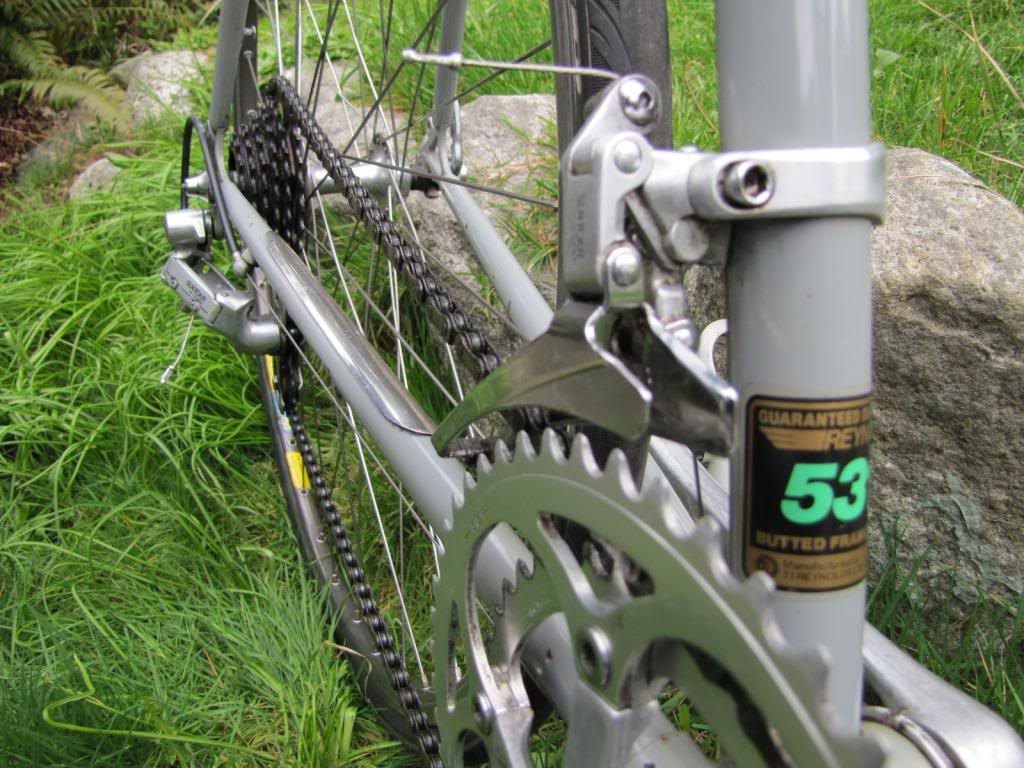 The Appeal
You can tell I'm a fan of early Trek bikes. They were mostly built with Japanese components, including SR, Sakae, Araya, Suntour and Shimano. Some higher end models were built with Campagnolo and are very collectable. No matter, Trek had tapped into the American psyche appealing for a more simplistic aesthetic, an emphasis on build quality and reliability rather than flair and style of unpronounceable European brands. It was a clever business model, but did Americans really want these more modest, US built bikes, over the prestigious European brands with decades of history and racing pedigree? Trek didn't sell in vast numbers for the first few years, but they made some terrific headway into the bike market of America.
The Specialized Allez
Lets move forward to 1983. I've always like the early versions of the Allez. With its distinctive Ferrari red colour with simple decals, stamped fork crowns and Japanese build, the first editions of the Allez are lovely bikes. They came into the market later than Trek, beginning around 1983, though Specialized had broken new ground two years earlier with its invention of the Stumpjumper mountain bike. Specailized began life as a components company, and I like the story of Mike Sinyard going over to Europe to source parts to resell to his West Coast bike enthusiasts. He was obviously passionate about cycling, but his story is quite different from those of the Trek founders. The first generation of Allez frames were built in Japan, by 3ren, and though designed by Tim Neenan, Specialized outsourced their production from the start to Japan. These 3ren frames had long, thin lugs, a sweeping crown and forged dropouts, and are deemed the holy grail of the steel framed Allez.
The Japanese Connection
Both Trek and Specailized heralded the new era of Japanese domination of the world bike market. Most of their bikes were built with Japanese parts, and the days of Huret and Simplex were numbered. The new wave of technology was to bring about massive changes in technology that the French firms just would be able to keep up with. Trek and Specailized, therefore, can be seen as the catalysts of change that would bring in a new era of modern cycling. Both would begin creating carbon framed bikes, and bring in the aluminium era of lighter framed road and touring bikes of the 1990's. Trek and Specailized are now two giant companies that have grown from humble beginnings, which, I suppose, is what a real American success story is all about.