Post Touristique Blues
The best bike I've ridden for a while? The British Eagle Touristique. It surprises me, that a British touring bike from the early '90s made such an impression and makes me want to find another to replace it. It's very unlikely. I paid just £50 for the lovely Touristique, a bike worth at least five times the price and in seriously good condition. These deals come but once in a blue moon, so when I found this Dawes Galaxy for sale at the same price, £50, I jumped in and decided that perhaps I'd found, with this most famous of British touring bikes, the replacement for the lost Touristique..
"Dawes are like Vauxhalls"
I remember how I used to dream of owning a Raleigh Ti Team 753 as a boy. I had a friend who used to bring in bike catalogues to school, and we used to pore over them during break time. British bikes, mind you, as who could get hold of a Mercier catalogue in those days? Anyway, I knew something about the hierarchies of road bikes back in 1982, so when an older kid turned up one day at the park on a brand new Dawes bike, my friend and I had to take a good look at it. It was my first encounter with a Dawes bike, and I have to say, me and my friend weren't that impressed. It wasn't an expensive bike, and our point of reference was the first page of glossy competition road bikes in the Raleigh catalogue stuffed in my friend's coat pocket. The older kid waxed lyrical about his new bike, but I always remember my friend saying "Mate, it's nothing special; Dawes are like Vauxhalls".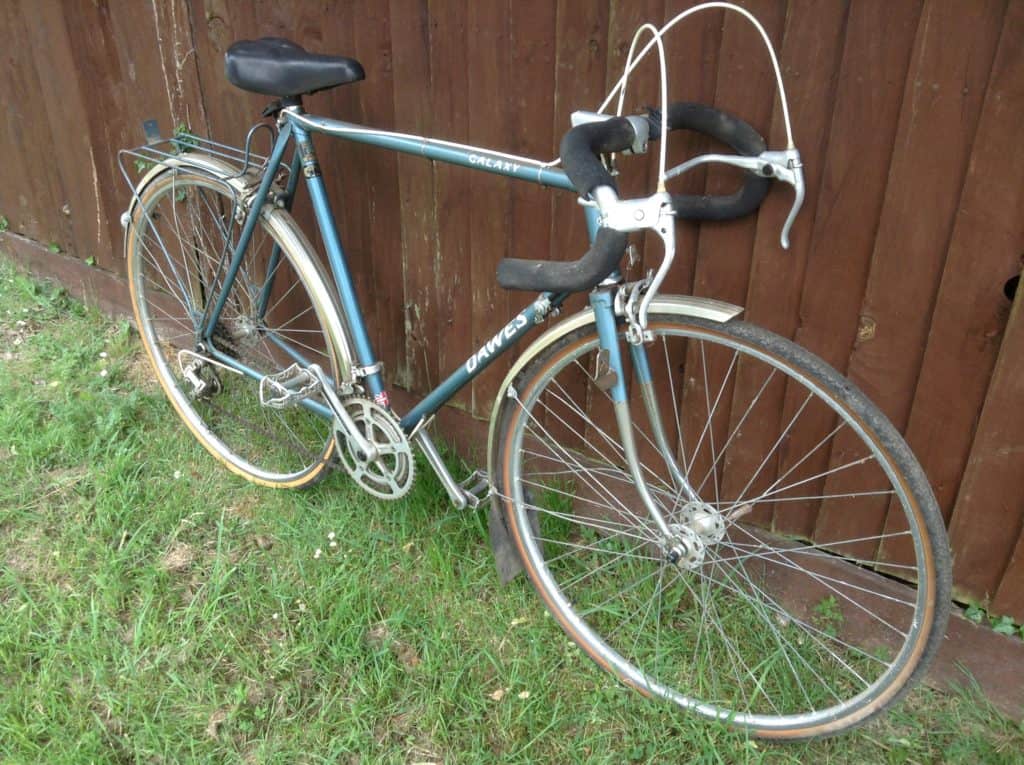 Galaxy Quest
Perhaps that encounter in the park that day in 1982 is the reason I've never owned one, or ever tried to own one. Dawes never sponsored a team in the Tour De France, and had never bothered to develop any racing pedigree or an iconic team bike. They were best known for their two Reynolds 531 based touring bikes: the Galaxy and the Super Galaxy. Made in their large factory in Birmingham and proudly proclaiming the use of British parts on their bikes, Dawes always seemed a bit snooty to us ordinary kids. They didn't produce a Chopper or a world beating professional bike, and always seemed a bit, well, straight-laced and boring.
A Bike for the Middle Classes?
It was the racing bike that captured our imaginations as kids back then. I mean, come on! Who is going to inspire you more as a kid? Joop Zoetemelk on his Team Raleigh winning the Tour De France, or Mr Jeffries from number 16 taking his Dawes Galaxy out for a tour around Ambleside? I've always thought that touring bikes can sometimes seem a bit nerdy, with their array of extra mountings and knick knacks, their racks and frippery. Touring suggests leisure, not speed and graft, and that in itself could be a class thing in Britain. I would have expected my chemistry teacher to turn up on a Galaxy, but not a Holdsworth Professional.
What is this Galaxy?
What a muddle this bike is. A Reynolds 531 frame in a vapid blue colour, that I can only imagine once shined very differently. It has a strange combination of parts: French made high flange Normandy hubs, a Japanese transmission with Suntour derailleurs and a Sakae crank ( branded Dawes ), Weinmann rims and brakes, an Italian saddle, and bits of other Japanese parts including a Tange bottom bracket and SR stem. All this adds up to one thing: that the only British element about this bike is the frame, the rest being a medley of average parts from Europe and Japan. Custom built then? No, because there is one on this page built to nearly exactly the same specifications.
It's Heavy
I wouldn't say that this is a great looking bike, and the colour seems to lack sparkle or shimmer, even though it is of good quality. It has 27 inch rims and, let me tell you, that wheelset is heavy. I think the bike weighs around 27lbs, and has no triple gearing to get this weight up the hills. Imagine this thing fully loaded; you'd be talking of more than 35lbs to drag it up the inclines on your world tour. Indeed, it seems to me that Dawes built this bike with bread and butter functionality in mind, for it is not a high performance machine with a quality groupset, and it was certainly not built with any wow factor. That said, it does feel bulletproof.
Comparing it
So let's be clear: there's no way this bike is going to rival the beautiful ride of the Touristique, a bike from the early 1990's with a very different set up. The twelve year difference between them is everything, and it shows the great leaps in technology that occurred in the 1980's. This Galaxy was built in 1979, ( dated by the Normandy hubs and comparisons with other models ), and it feels like a 1970's bike. Friction shifting, a 5 speed freewheel and a standard double crankset for what is a touring bike ( 52/40 ), centre-pull brakes and clamp-on mounting, yes, this is a bike from the time which enthusiasts would call "the era of classic touring bike". Better strengthen those legs then.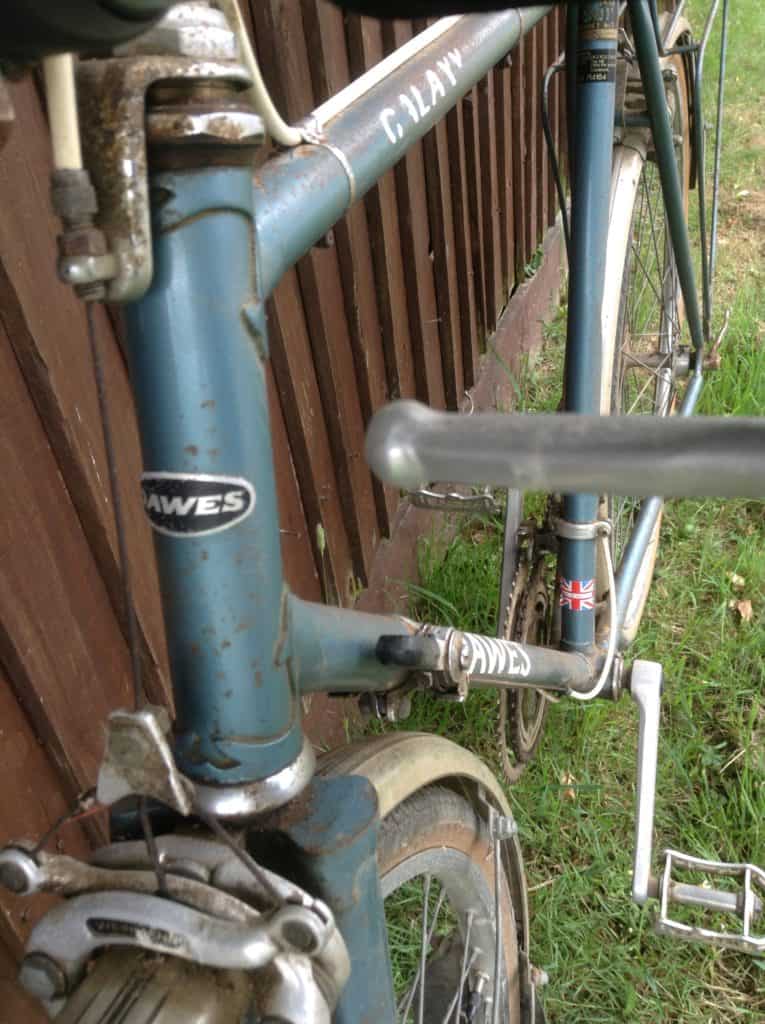 Condition
Not great. 5/10, perhaps. The well-settled surface rust on the paint has marred the finish and spoils the general look of the bike. The lugs are understated but elegant and in keeping with the rest of the frame, I'm not sure what brand they are. Paint details are minimal and the fork crowns are plain and undecorated. Interestingly, the frame has half chromed forks but not stays. The word "tatty" comes to mind as far as the rest of the bike is concerned. All of its components need a thorough cleaning, though nothing seems broken or cracked. I don't think this bike has been abused like some sad old junkers, but it was definitely abandoned, given up on. The rear wheel is so out of true it can't spin between the wide-spaced Weinmann brake pads. And I hate that spongy handlebar grip, the double brake levers and that awful saddle. No, they have to go.
Specs
1980 Dawes Galaxy
59cm Centre – Top; 59cm Top Tube, C – C
Chainstay Length 46cm
Wheelbase 99cm
Headtube Angle 72 Degrees
Reynolds 531 Straight Gauge Main Tubes
10 Speed, 2 x 5
Suntour Compe Front Derailleur
Suntour VX Rear Derailleur
Suntour LD-1100 Shifters
Weinmann Vanquier 610/750 Brakes
Weinmann 27¼  Inch Rims
Michelin Tyres
Dawes Branded Sakae 5 Arm Crankset: 170mm, 52/40
Selle Italia Saddle
Normandy High Flange Hubs
SR Stem, Unbranded Bars
Tange Bottom Bracket