The Anquetil Name
I'm surprised that Jacques Anquetil never produced a high end series of road bikes after all his successes as a rider. It seems like multiple French brands built bikes boasting the Anquetil name on the frame, but these bikes were produced for the mass market, they were cheap and basic machines sold to those who wanted a bit of that Anquetil glory. But what about the serious club rider, the discerning cycling enthusiast who wanted a great bike? The Anquetil I have isn't one of those, and I'm not sure a truly high end Anquetil model was ever produced. So just how good is this version of the brand?
The Best and Worst of it
The best? Condition. This bike had nearly perfect main tubes, and the was barely a scratch anywhere. It's not often you come across a bike which has survived so wonderfully. The frameset is a simple affair but refined and rather understated. The worst of it? The shifters. I'm not a fan at all of plastic on components, it's always a sign to me of the decline in quality of later vintage parts. So these Huret shifters are nothing but two hunks of moulded black plastic, ugly and just so boring. I would swap these shifters out if I was going to keep this bike.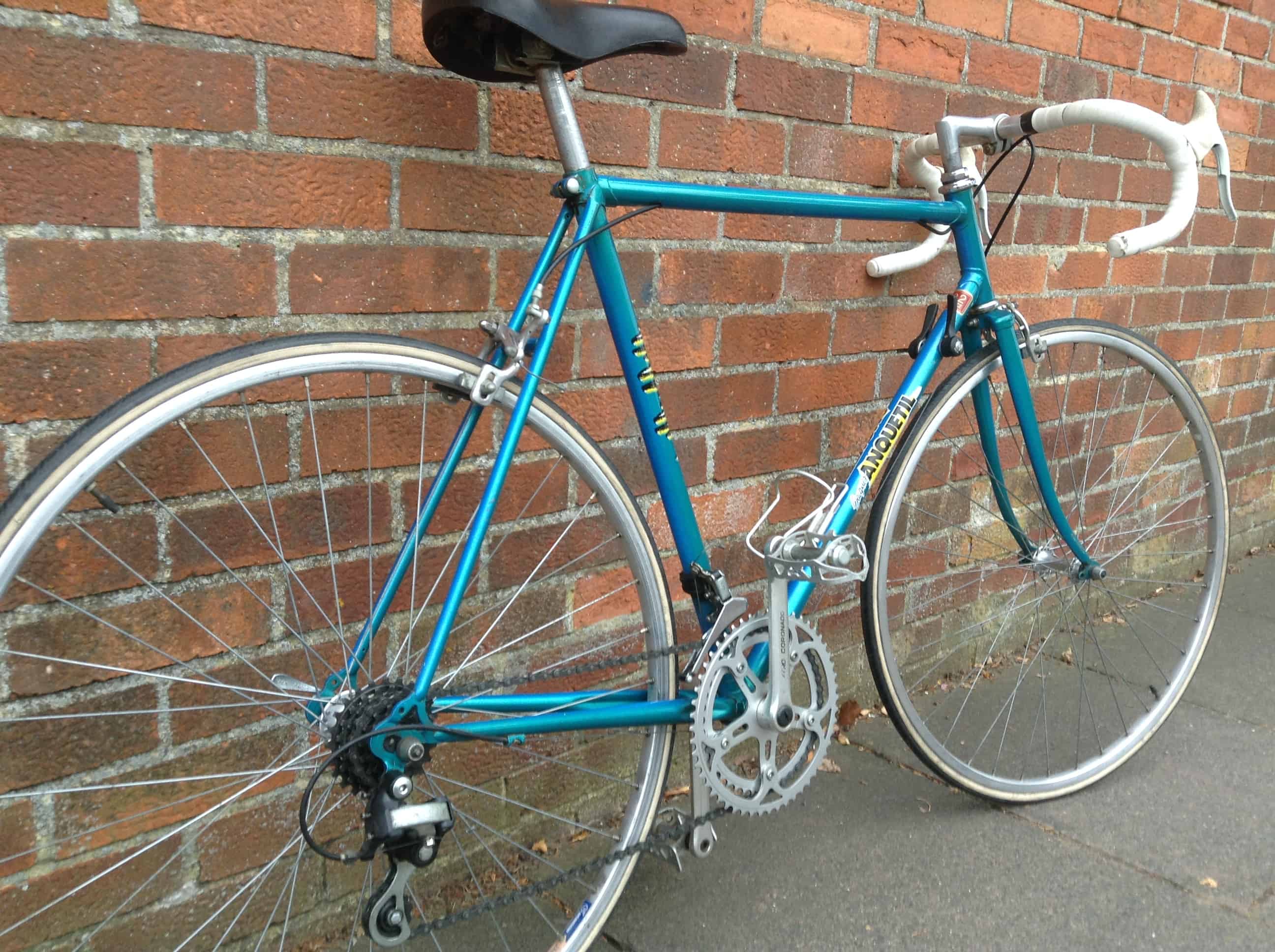 Other Anquetils
I've seen many Anquetil bikes in France, and naturally they sold in great numbers in his home country. Most, it must be said, are not worth blogging about, unless you love extolling the joys of owning something similar to a Peugeot UO-8. Nevertheless, I have seen some good quality Anquetils around. I owned this one for a while, which had Vitus 971 tubing and Shimano 600 parts. And that's not all: I once came across very nice Anquetil Super Vitus 981, with the same Shimano 600 Arabesque groupset. Unfortunately, I wasn't able to buy it, but it was a rare example of a higher quality Anquetil bike. But let's be honest, it didn't have the build of a Peugeot PX10 or a Motobecane C5. To me, Shimano 600 was always the poor man's Campagnolo Record or Simplex LJ of the late 1970's and early 1980's.
What is Aero 102 Tubing?
It sounds good, a sort of space-age set of steel tubes from the 1980's. But in reality, Aero 102 tubing was just proprietary tubing similar in quality to Peugeot's Carbolite frames of the same period. Heavier than Reynolds 501 and 531, it sounded cool; but it was really a clever marketing ploy to get customers to think that it was something better than it really was. The bike could be sold as mid-range if decent enough parts were fitted to it, so in real terms it was pretending to be something that it really wasn't: a lightweight racer. Yet, this frame features simple, clean lines with little ornamentation helped by the internal cabling for the rear brake housing. I'd say it is better than a Peugeot Carbolite of the same era.
Thun Again
I am not a fan of Thun components, and amazingly they are still in production today. There are reports that this crank, the Aero Coronado, bends easily. It's a terrible name, and like the only other Thun crankset I've come across, it's pretty ugly. What's really unattractive is way the two chain rings are attached together, so the larger ring sits on top the spider. It makes the crank bolts the main focus of the whole crankset, and I just don't like it al all. And what about that name? What does it mean? It sounds like a tacky American convertible car from the 1970's.
Sachs Derailleurs: Yawn.
Yes, there's nothing exciting about these Sachs derailleurs on this bike. They work efficiently as you'd expect from a product of a conglomerate back at that point in the mid 1980's. It was a company that had plans to take over the European market, and it was producing a lot of fine but bland derailleurs back then. I don't think Sachs Huret made a beautiful derailleur in the 1980's, and many of them, to me, are as bland and forgettable as this one: a Aris Classic 2500. It also features plastic like Simplex Prestige, but at least Simplex, for all their mistakes, never made a really bland derailleur.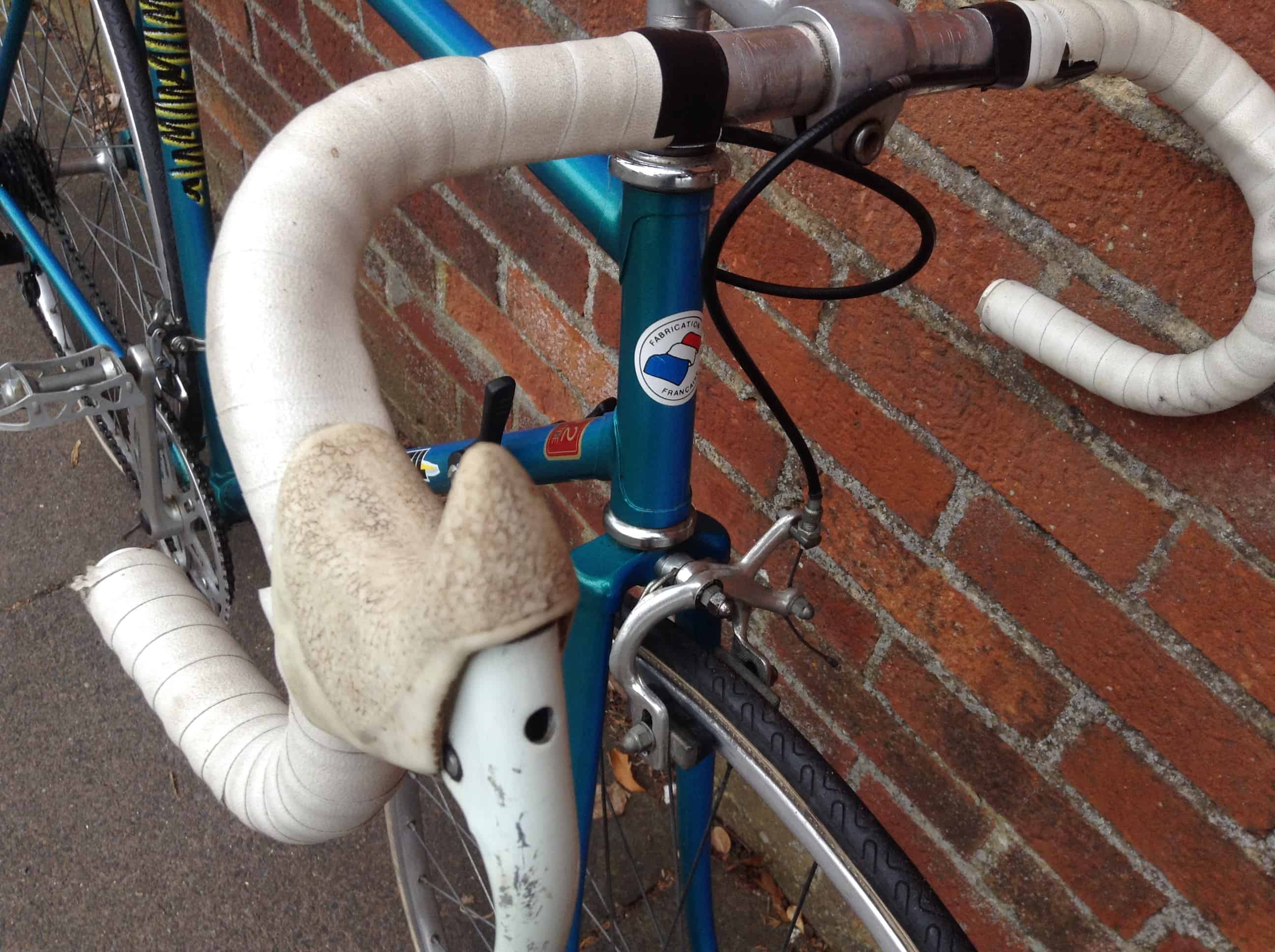 Riding the bike
Some people think that 1980's bikes hit the sweet spot for those who love steel bikes. Because of then technological advancements through that decade, it is true that bikes became better to ride. I like the geometry of the frame: it's longer top tube actually really suits me, and with its eyelets on the dropouts, this frame could make a good touring bike. This Anquetil had the functionality of indexed shifting with a six speed freewheel, and rides pretty damn well in my view. It's not a quick bike, but it's quiet, has solid shifting and better brakes than most bikes of the 1970's. Indeed, this is a utilitarian machine that wouldn't let you down. It may weigh around 24lbs, it may not have a single impressive feature, but as a whole it works like a Swiss clock.
Specs
1985 Jacques Anquetil 
57cm Frame, 58cm Top Tube C-C
Aero 102 Tubing
Unstamped Dropouts, No Serial Number
Belleri Handlebars and Stem
Maillard Hubs 
Rigida 700c Clincher Rims, Grey Spokes
Sachs Huret Aris Classic 2500 Derailleurs
Unmentionable Shifters
Thon Aero Coronado Crankset, 52/42
CLB Brakes
Unbranded Saddle and Seatpost